Snow Fall: To Run or Not To Run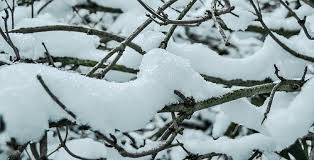 As many of us face the LONG winter, we are faced with the challenge of whether or not to run inside, outside, or just skip the run all together.  Running in the winter is one of my favorite seasons to run outside.  The crisp cool air and bright but cool sunshine help to make my runs fun and invigorating.  It is peaceful and I don't have to concern myself with overheating either.  Now here in Washington State, I have it pretty easy.  We rarely, if ever get snow.  Except for this weekend.  We got our first snow of the season and I'll be honest, I chickened out and hit the treadmill to run.  Why?  I didn't want to risk falling. I am just getting over various injuries and I didn't feel like getting another one.
But there are some precautions that you and I can take to make running outside in the winter both enjoyable and safe.
First off, remember that you may have to slow your pace some.  In fact, when I do run on the snow and ice, my gait shortens and my speed decreases.  What is ironic is that I get a better workout running in the snow and ice than on the pavement of summer or on the treadmill.  Why is this?  Well, it takes a lot more energy both physically and mentally as you transverse the slick streets.  It challenges your balance, mental acuity, and builds strength.   These are all things that running on a treadmill will not provide, but are necessary if you want to be your best.
So try the following tips to run safely and avoid falling on ice and snow this winter.
Choose fresh snow over ice or packed snow.  You get better traction on fresh snow and reduce the chance for slipping.  Watch out for snow-covered ice as this is super slick.   You don't want to fall.
As I mentioned before change your stride and keep your feet lower to the ground.  It really is ok to change your stride.  In fact, if you don't, you will risk falling or straining a muscle which will cause you to have to stop running for a period of time.  This is what we want to avoid.
Go slower. While this may seem counterproductive at first, you will find that the workout is just a challenging, if not more so than running fast.   It is better to focus on safety than to hurry your pace and risk getting hurt.  It's also okay to shorten your run in the snow. You'll be working a lot harder and therefore, not need to run as far to get the same results as running on the treadmill.
Running in snow and ice requires your stabilizing muscles to work twice as hard as you work to keep upright.
When in doubt, walk through an icy stretch. A run/walk routine will help to make sure you don't slip on the ice and fall.
Relax and have fun.   Part of the tranquility of running in the snow is that it requires you to be in the moment and focus on every step you take.
So don't fear the snow.  Go out and enjoy your run.  You'll be glad you did.